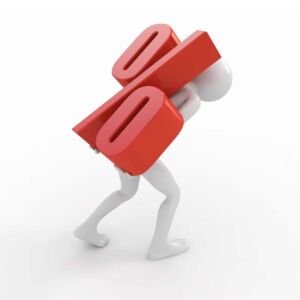 The Finance Landscape is Changing
Interest Rates Go Up For Investors & Policy Tightens
In response to APRA's (Australian Prudential Regulation Authority) request for lenders to tighten policies for investment lending, financiers have commenced sweeping changes which are going to have a huge impact on the investor market.
Last week, ANZ announced a 27-basis point (0.27%) increase in its variable rate investment loan products and a loading to fixed loan investment rates. This was primarily aimed to discourage new investment lending and to assist compliance with the Australian Prudential Regulatory Authorities (APRA) targets on investment lending growth.
Carrying the load – 

Investors are going to find themselves carrying higher interest costs – but will it slow them down?

CBA & Macquarie Bank have since followed ANZ with similar changes and we expect more lenders, including Westpac, to make announcements regarding their changes to Investment Lending, sooner rather than later.

NAB, which had already introduced price increases for Investment Lending, has now started to load rates for borrowers lending on an Interest Only basis (regardless of the purpose).
Summary of Changes So Far
 Bank

 Change

Effective Date of Change for Existing Facilities

ANZ & CBA

0.27% p.a. increase in all Variable Rate Investment Loans (excluding Line of Credits).

Fixed Rate Investment Loans now priced higher than Fixed Rate Owner Occupied loans

 10 August 2015

 NAB

 0.29% p.a. increase in all new and existing Interest Only loan facilities (for both Investor and Owner Occupied loans).

 10 September 2015

 Macquarie Bank

 0.27% p.a. increase in all Investment Loans (excluding Line of Credits)

 10 August 2015

AMP

0.47% p.a. increase in all existing Investment Loans.  AMP has put a stop to assessing any new applications for Investment Lending or increasing existing Investment Loans

7 September 2015
These changes have been designed to restrict investors' borrowing capacities, thus taking the heat out of the property market and limiting the possibility of a property crash when interest rates final go up.  These changes have already dramatically transformed lending policies regarding investment loans and we expect more changes to come as the banks continue to work closely with APRA.
With this round of changes, it is advisable not to make any quick decisions, but wait to see how the rest of the market responds before taking any action.
Are These Changes Permanent? Should I Refinance?
These changes are designed to allow banks to re-balance their portfolios with the view of reducing exposure to investor purpose lending. These changes are to assist in managing investor lending growth, which APRA wants reduced to 10%.
For existing customers, it is possible to switch the product type from "investment" if you can demonstrate to the bank the investment facility is no longer used for that purpose. Please contact us to discuss this, we can assist with that process.
As for Investors – they will ultimately be faced with a decision – refinance with another lender who, in the short term might offer better terms, or just wear this recent price increase for now by maintaining existing arrangements.
You must be wary about moving to another bank offering a more attractive rate right now – it could be short lived.  It pays to understand the lender in more detail than just on price.
In a period of low interest rates and uncertainty, Vanquish Finance Group is happy to work with you.  We constantly question lenders on the nature and type of lending portfolio they offer; how they are funded and what might lie ahead.
Need More Information?

  Then please call me on 0409 089 456.

Declan Hanratty – Managing Director

M: 0409 089 456  F: 03 9416 1916  E: declan@vanquishgroup.com.au W: vanquishgroup.com.au  ABN: 19 880 907 430  POSTAL:  PO Box 1551  COLLINGWOOD  Victoria  3066 MFAA Membership No.  50217  Australian Credit Licence No. 383120  Credit Ombudsman Service No. 412201